Product Description
More information on speakers and workshops will be released soon.
Our theme: 'Toolkit for Resilience – Creating a resilient future for ourselves, our communities, our society, our earth'.
Hannah Moloney
Good Life Permaculture
Permaculture educator, designer, activist, author and presenter on Gardening Australia, Hannah has been a long-time leading advocate for bringing permaculture and localised sustainability into the mainstream, and making it fun and accessible.
Eugenio 'Ego' Lemos
Permatil
An Earth Hall of Fame Award recipient in 2019, Ego is an environmental activist, musician, writer and educator from Timor-Leste. Creator and director of Permatil, leading over 20 years of sustained and growing impact through permaculture, food sovereignty and water restoration projects across Timor-Leste and internationally.
Annemarie & Graham Brookman
The Food Forest
Founders of the inspirational 15-hectare Food Forest at Gawler, Annemarie and Graham are leaders and elders of the permaculture community in South Australia and beyond.
Costa Georgiadis
Gardening Australia
Costa Georgiadis is a landscape architect and host of ABC's Gardening Australia, who has an all-consuming passion for plants and people. His holistic approach is all about gardening the soil and the soul.
Brenna Quinlan
Permaculture Illustrator
Brenna Quinlan is an illustrator and educator who strives to make the world a better place through her art and her actions. She co-runs Grow Do It Permaculture Education, bringing climate solutions to kids (and their grown-ups) through art, music and creativity. Brenna is currently building her own strawbale house out of reclaimed materials in Western Australia on Noongar boodja.
Formidable Vegetable
Permaculture Funk-Swing Band
With a wheelbarrow full of dirty electro radish-beets, crusty jazz ukulele, swingin' strings and hyperactive horns, Formidable Vegetable is here to sow the garden of your mind with seeds of future resilience in the funkiest way possible.
Kirsten Bradley
Milkwood
Known for her advocacy and workshops in permaculture skills, Kirsten founded Milkwood with Nick Ritar in 2007. She is an experienced grower, natural beekeeper, pickler, forager teacher, learner and community builder — and the author of best-selling books Milkwood: Real Skills for Down-to-Earth Living and Easy Peasy. She is a bit in love with seaweed, also.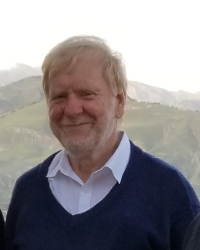 Walter Jehne
Healthy Soils Australia
An inspirational and engaging soil scientist, focusing on healthy soil as a key platform for climate mitigation, adaptation and our resilient future. Making the technical easily digestible, Walter explains how this happens and how we can be the change-makers to restore ecosystem function in our backyards, farms and beyond.
Would you like to speak at the APC?
Sessions will include presentations, panel discussions, hands-on indoor and outdoor activities and more. We encourage applications for topics ranging from bigger-picture society and permaculture movement elements right through to hands-on practical skills and techniques.
The deadline for applications is Friday 18 November 2022.