Product Description
Sold out!
Wow! We can't believe it! Thanks! The APC ticket sales have sold out!
---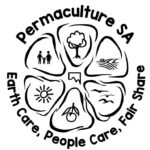 The Permaculture South Australia crew is excited to announce that the Australian Permaculture Convergence is coming to Yaktunga / Mount Barker in April 2023.
It's been almost 30 years since SA hosted this biennial event. Mark off your calendars and save the date because this will be one you won't want to miss!
The APC is a four-day event celebrating permaculture, sustainability and urban food movements. Join us for inspiring keynote speakers, workshops, stalls and hands-on activities. Camping spots will be available.
Join our mailing list to stay up to date with upcoming announcements.
---
The main event, with three epic days of workshops, hands-on activities, discussions, keynote presentations and social activities.
Introducing the first of many speakers joining us next April
25+ more to be announced later this year.
As always the APC attracts an incredible array of speakers. We are pleased to welcome the following speakers:
Hannah Moloney, Good Life Permaculture
Costa Georgiadis, Gardening Australia
Eugenio 'Ego' Lemos, Permatil Timor Leste
Walter Jehne, Healthy Soils Australia
Annemarie & Graham Brookman, The Food Forest
Kirsten Bradley, Milkwood
The location
The Australian Permaculture Convergence 2023 will be held at the beautiful Mount Barker Waldorf School, at Yaktunga / Mount Barker in South Australia's Adelaide Hills. On-site camping will be available.