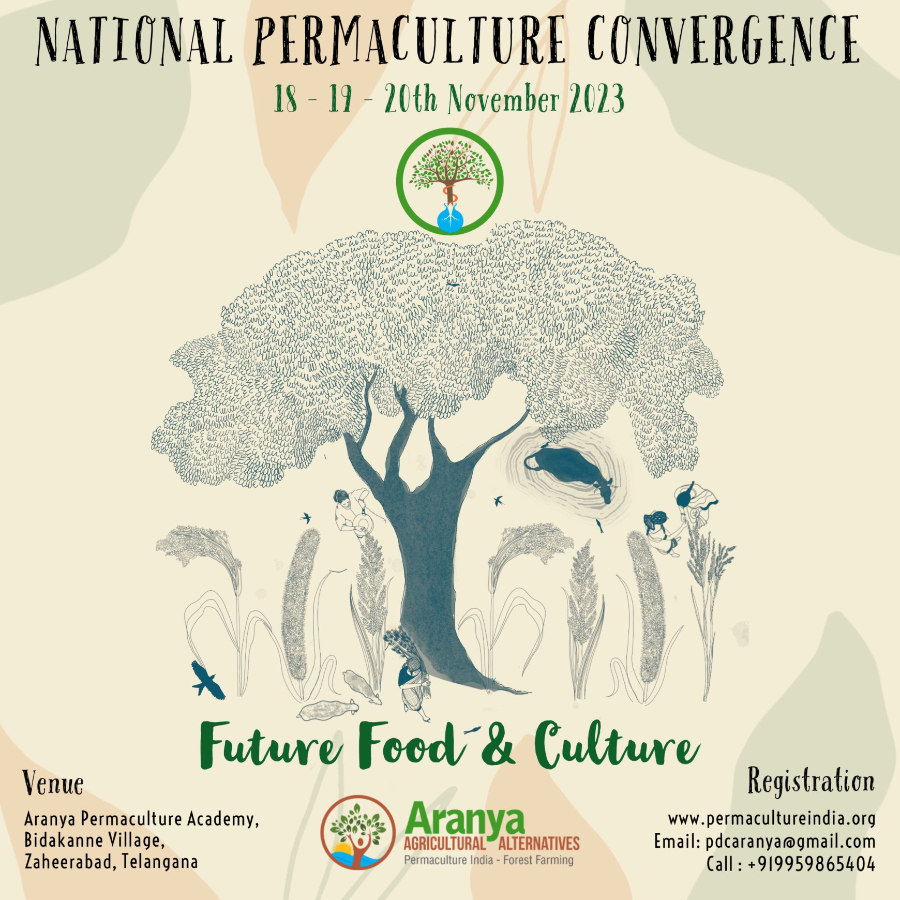 Event date:

18/11/2023 at 9:00 am

Event end:

20/11/2023 at 5:00 pm
3rd NATIONAL PERMACULTURE CONVERGENCE INDIA 2023: NOVEMBER 18th to NOVEMBER 20th
Aranya gears up for NPC 2023 with renewed vigour and excitement. The Convergence welcomes farmers and farmers' organizations, academicians, researchers, policymakers, students, entrepreneurs, and individuals working towards or interested in ecological solutions in various fields including sustainable agriculture, natural resource management, environment, biodiversity, sustainable living, health and nutrition.
NPC 2016, with its theme of Towards Healthy Solutions;
NPC 2020 providing broader perspectives on *Climate Change & Permaculture Solutions, created productive channels to enable a concrete framework in which Permaculture methodology could experiment, experience and evolve.
NPC 2023 will review and renew the learnings of the previous Convergences, and also orient itself towards the task of lifting up spirits and confidence, post- COVID. The theme of the Convergence is Future Food and Culture. It is aimed at developing new strategies of designing ecosystems, future food security and ethos of human cultures.The Convergence will provide the right platform to share our views as well as learn from those of others.
Talks by eminent speakers, discussions, and demonstrations spread across three days will inspire and invigorate those who wish to enrich their Permaculture experience and enhance regenerative and sustainable practices.
Location