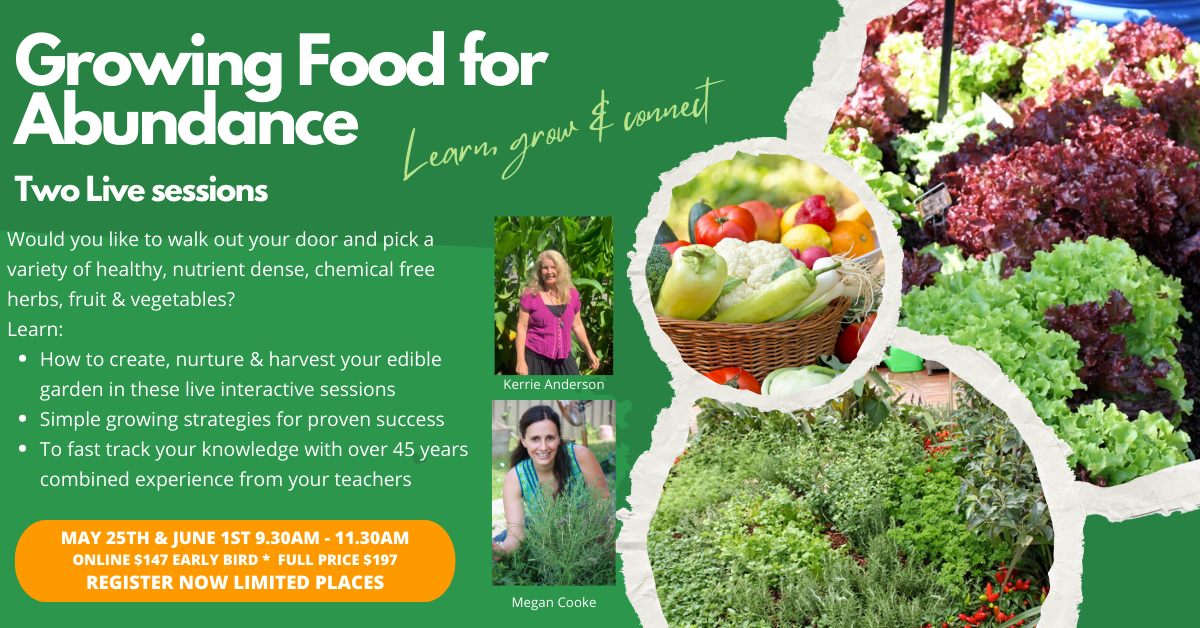 Event date:

25/05/2023 at 9:30 am

Event end:

01/06/2023 at 11:30 am
Are you dreaming of growing your own chemical-free, nutrient-dense food but don't know where to start? Would you like to achieve that with a minimal amount of time and maximum success?  Do you want to connect with like-minded people online who are on their journey of growing food?
Join Permaculture teachers Kerrie Anderson of Synergy Permaculture from the Central Coast of NSW and Megan Cooke of Garden to Table from Mid North Coast of NSW for these 2 live interactive sessions online to guide you on a journey of growing food for abundance.
Day 1 – Thursday 25th May 9.30am – 11.30am
Introduction and Welcome
Beyond organic.  What does it mean and how to achieve it
Inspirational ideas for your edible garden
Zones in your garden
Where to place your kitchen garden. Create a mud map/basic layout
Different garden bed types.  Which one to choose? Pros and cons
Six steps to starting your herb & vegetable garden
Wrap up.
Day 2 – Thursday 1st June 9.30am – 11.30am
Introduction
How to plant, grow and harvest nutrient-dense food
Seasonal plants to grow, annuals versus perennials, companion plants, succession planting
Soil and nutrient cycling
Garden maintenance; feeding, watering, harvesting
Crop protection, solutions to pests and diseases
Wrap up and where to from here.
You will receive:
A Month-by-Month Planting Guide
Companion Planting Guide
For tickets:
Tickets
$147 Earlybird Tickets

$197 Standard Tickets
Please note there are no refunds on your ticket and if you are unable to attend there will be a recording available.
Features